Saotome Taichi has another major theatrical play for this year and it will be held on Osaka and Tokyo. YAY~
The English title is
"Seven Souls in the Skull Castle"
. The play is organized by
Gekidan☆Shinkansen
led by Inoue Hidenori who is known for his manga style of theatre ("with full-on sound effects and stylish and speedy action scenes"). Hidenori's works are called "Inoue Kabuki". The play was written by Nakashima Kazuki and directed by Inoue Hidenori. Dokuro stars Oguri Shun, Moriyama Miki, Saotome Taichi, Koike Reiko, Takada Seiko, Chiba Tetsuya and etc. (since I'm not sure how to read the others lol). Taichi was casted as one of the main roles.
The official posters were released last April 15. No information was diclosed about the summary or the characters as of now, but somehow Taichi's character is pretty lol. We will know in a few days to come or this coming June 2011.
Dates and Locations:
Osaka Show will be held on August 2011 at the Umeta Theatre Main Hall.
Tokyo Show will be held on September 2011 at the Aoyama Theatre.
Official Posters: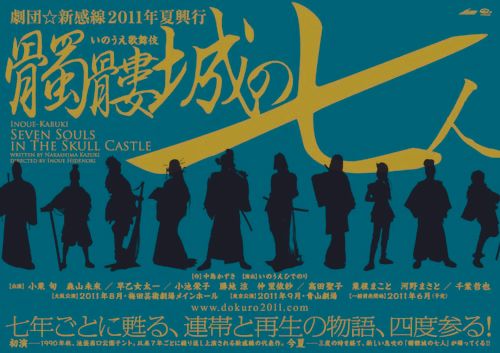 For more info, you can visit the official website:
http://www.dokuro2011.com/